80k In One Month With Just 8 Products
0
The biggest hurdle and it's not half as bad ad you might imagine.
Often people imagine the worst. It seems to be a function of the way our reptilian brains operate.
That base part of our brain is designed to keep us safe, but it ends up projecting it's fear based consciousness onto other parts of our lives…
So when we look at a business model that requires us to buy physical stock, have it sent to a warehouse in a second country, and then selling that stock to people in a different country that we live in…
Our reptilian brain sees trouble… It sees hard work, and it sees danger.
But like most things that our reptilian brain warns us about… the reality is that "The Worst" rarely happens…
In fact "The Worst" tends to be more a figment of our imagination and the "Reality" more often than not turns out to be much much better than all the disasters you spent hours imagining where going to come to pass.
Funny that.
So I was looking at what I guy I knew from years ago had been doing…
And his latest venture was shipping products with his branding on it over to the USA, using amazon's fulfilment services and selling these products on the Amazon platform to Americans…
The largest consumer market on the planet.
He lives here… but every two weeks he gets paid, by Amazon, for his products, in US dollars.
The cool thing about this model is that Amazon has over 100Million customers.

Get this:
Last year they became the first online retailer in history to surpass $100 BILLION in sales in a 12 month period.
That breaks down to $270M every DAY or about $11M every HOUR – 24/7.
That's a lot of customers buying a lot of stuff.
Once you start to get sales, the Amazon snowball will gather its own momentum and get you more.
The other great thing about this model is that even though there are other fulfillment houses in the world, Amazing, being as large as they are have spent a fortune making sure they are the best.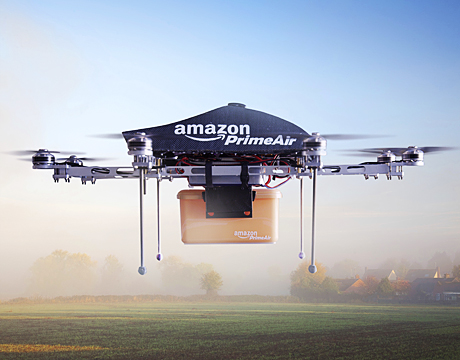 Last year there was a heap of news about Amazons plans to deliver products within capital cities via Drone with 30 minutes of ordering.
Amazing right?
… it takes longer than that to get in your car and drive to the shops to buy what you want!
You can get your stuff shipped to warehouses in various locations around the USA and now to warehouses in Europe too so you can sell to the European market.
That's an enormous number of people you can get in front of with your product.
Now after talking to this guy and getting the lowdown, there are, as with all things… pitfalls.
Let's be realistic.
There are things you need to know to avoid getting stung by suppliers, customs, shipping and other such obstacles…
But at the end of the day – it's all just a step by step process.
You take one step at a time and when you're done, you've got yourself a business that runs in a hands-free.
He runs his entire business from his smartphone.
This isn't one of those 'instant business' models that promise rags to riches.
…No, this is more of a slow build over time as you find and add products to your inventory and test the market…
But if it took you two or three years to develop a business that could do $50k or more a month on autopilot… would it be worth it?
Let's just take a moment to think about that…
One month his business did $80k before he ran out of stock… not such a bad problem to have I guess…
I share this with you because while all the guru's online promote bigger profits, faster… I want to cut through some of that and share with you how part time, and building slowly…
…there are really great businesses that you can build… for long term, stable income for years to come.
So stay tuned – There's more to come.